As the northern hemisphere tilts away from the sun, autumn and winter arrive. As the trees in Lincoln stop photosynthesizing light energy into chemical energy, the chlorophyll in the leaves no longer reflects green light, and the leaves return to their 'real' color. The change in leaf color can happen very fast or slow depending upon many factors, including water absorption and temperatures.  With the hot dry summer we had, and if the change in the color of the Autumn Ashes south of the Capitol seen from October 16th to 19th is an indication, it could happen fast. And when a hard cold rain with strong winds comes, the leaves could fall quickly. Please hurry if you want to see the colors of Lincoln's urban forest rivals the autumn colors of the eastern forests of the United States.  The 14th floor observation decks are open, weather permitting, all the hours the Capitol is open to the public. Only the two north elevators go to the 14th floor.
South view from 14th floor, above October 16, and below October 19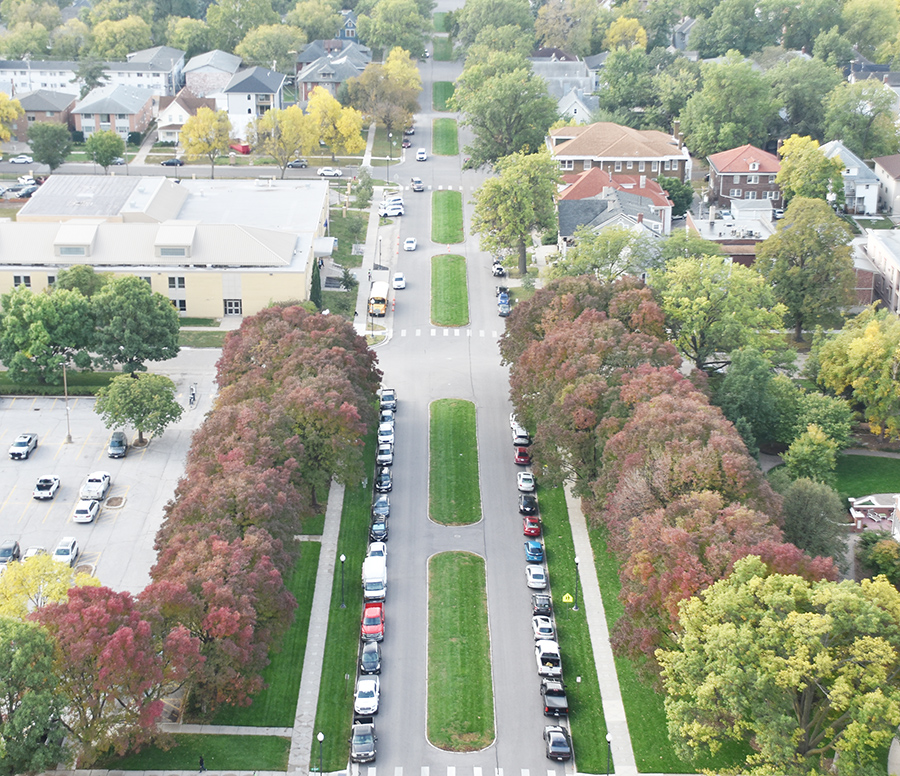 The change of seasons brings changes to the Nebraska State Capitol.  The last of the summer's roses are hanging on in the courtyards, so come soon if you want to take advantage of the natural beauty of the landscape hidden inside the Capitol.
The reduced angle of the sun's rays place the courtyards in shadow for most of the day.
The combination freezing temperatures and no sunshine to warm the paved surface will require Capitol Commission staff to drain the courtyard fountains, cover them, and close the courtyards for winter. The same will be true on the Capitol's main north plaza. If you want to take advantage of climbing the grand north stair and the dramatic entrance it provides to the Capitol's interior, please come soon. Once it starts to freeze, the shaded granite steps and elevated promenade deck will become dangerous to tread upon and will be closed until spring arrives again. Take advantage of the last of the afternoon warmth, the Capitol is open until 5:00 p.m. and the steps and promenade decks closes at dusk.