Lee Lawrie was born in Rixdorf, Germany, in 1877, and came to America with his family at the age of four. His artistic talent revealed itself first as he sketched and drew the world around him as a young boy. At fourteen he was hired to do odd jobs in a sculptor's studio, there he taught himself to model clay in the evenings. Within a year he had improved his skill and was allowed to translate models into full size sculpture for the Chicago Columbian Exposition of 1893. Later he worked in the studio of Beaux Arts sculptor Augustus Saint-Gaudens.
In 1910 Lawrie earned a Bachelor of Fine Arts from Yale and taught there until 1919.
He began working with Goodhue in 1895, his specialization in architectural sculpture complemented Goodhue's early Gothic revival designs. The reredos (carved stone altar screen) in St. Thomas Church in New York is an important example of his collaboration with Goodhue which culminated in the exterior sculpture of the Capitol in Lincoln.
Goodhue and Lawrie had a vision of the exterior sculpture for the Capitol being an integral part of the architecture. Lawrie's figures are engaged with the building, not separate and free standing, their form coming from the stone, buttresses and pylons of the building face.
Spirit of Prairie by Lee Lawrie
Decorating the north portal, the Spirit of the Prairie shows pioneers moving onto the prairie to settle Nebraska.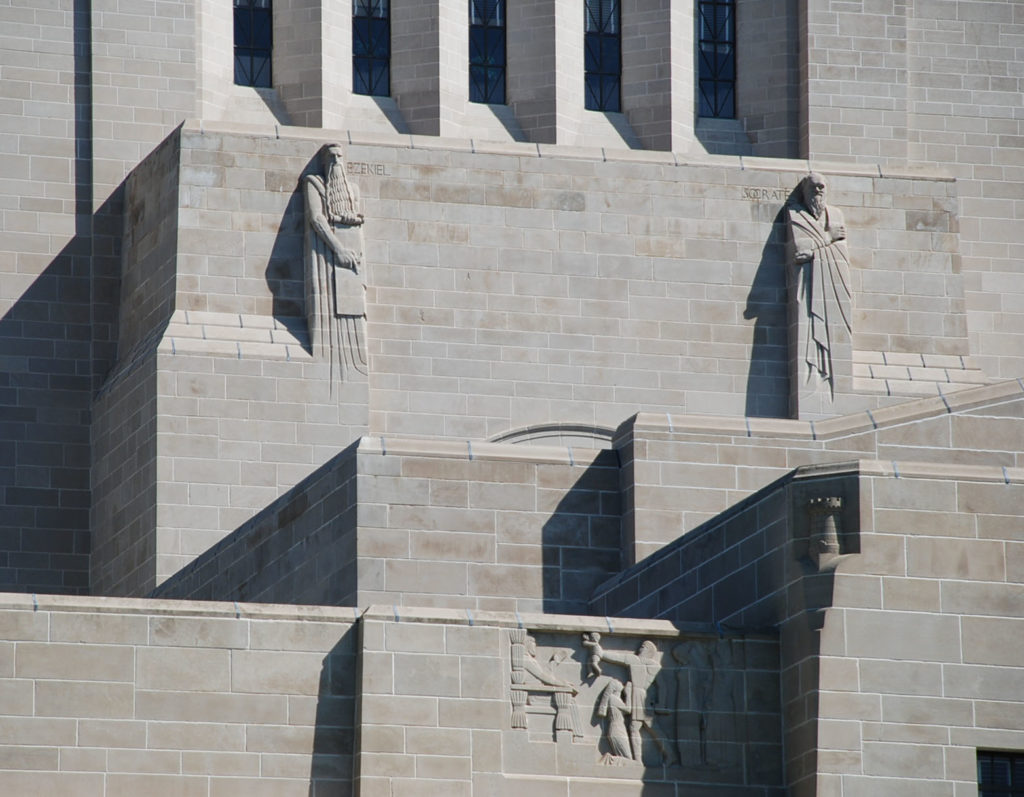 West Facade detail
The figures of Ezekiel and Socrates at the base of the tower are emphasized by the strong afternoon shadows.
Bison panel main entrance
Lawrie carved bison on the main stair walls to remind visitors of the First People to call Nebraska home.
Lawrie's Vestibule capital features Nebraska Icons.
Lawrie designed all the column capitals using corn and wheat as design elements.
Governor's Office capital
The capitals of the columns in the Private Office feature a corn motif used throughout the building in different ways.
Rotunda onyx balcony railing
The carved onyx railing features native symbols on the bison skull, the Western Meadowlark and corn or maize.
All but one of Lawrie's sculptural works on the Nebraska Capitol are in bas relief. "The Sower" a 19 foot tall bronze statue is mounted on top of the capitol and represents Nebraska's agricultural heritage.  The statue emphasizes the importance of agriculture to noble life and civilization; it also serves as a lightning rod for the capitol.
With his work for Nebraska, Lawrie brought architectural sculpture into the modern era. Later work on Rockefeller Center continued this modern emphasis. From 1921-1954 Lawrie received eight national architectural and sculptural awards. He died in 1963, one of America's foremost architectural sculptors.